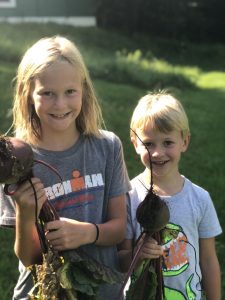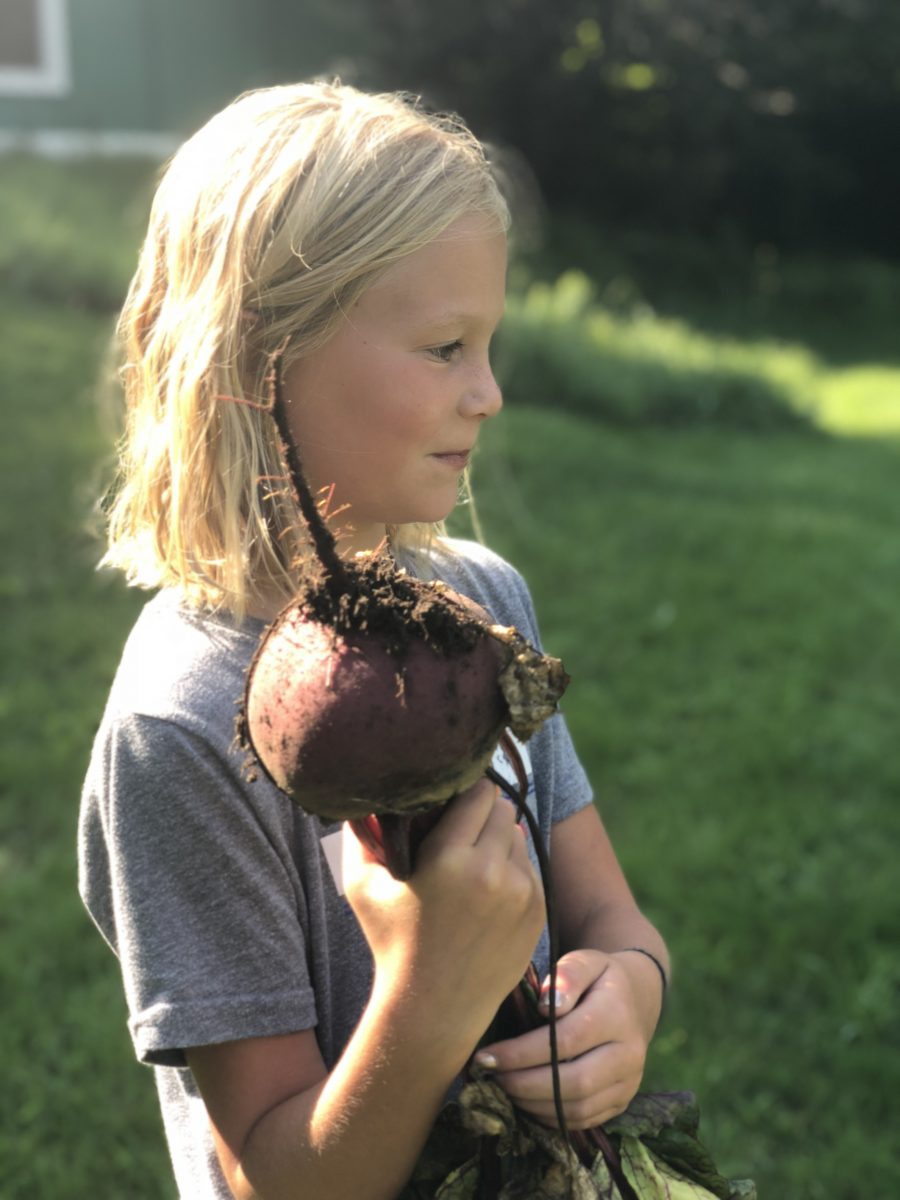 The beets!! Large, sweet great beets!
The garden this summer has been very productive. Happy with rain, sun and less sunflowers. Maybe we all need a some tending. Fewer weeds, less showy sunflowers to compete with, some water, some sun. We may need to take care of ourselves differently. I am great at taking care of others. Taking care of myself requires me to pay attention and not feel guilty. This year after my new hip, I have found myself saying to The Family I need to rest. Guess what, they are happy to hear me say it. They are surprised I need permission. They are relieved when I sit down! See how you do for the next week with balance. Work, exercise and rest and renewal. Where do you find your balance? ...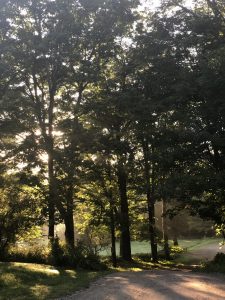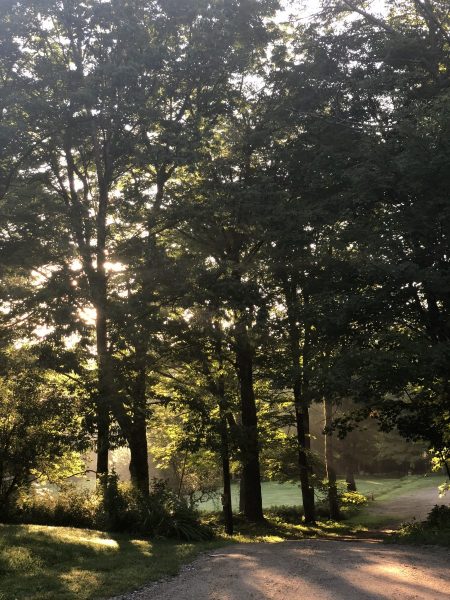 Early morning, late summer.
Late summer; magenta phlox, sunflowers, golden rod. Crickets, monach cattapillers and great blue herons. The less healthy trees are turning colors and there are leaves falling to the ground. Cut and split firewood is driving around in dump trucks and being stacked into piles that will warm homes thru the winter. The rhythmn of life. ...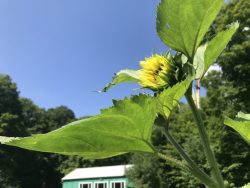 Well, it is that time of year. Sunflowers!!! We still have a lot! Although, Chuck was in charge of early weeding and prided himself on how many sunflowers he weeded out. I was a little disappointed, but I do have to admit, the carrots and beets are large and delicious. There are so many cucumbers and zucchini. Holy smokes, zucchini muffins, bread, cake and zucchini and tomatoes. ...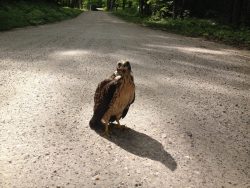 These are yellow spotted salamanders and they live in the window well right by the door we use to go in and out of the house. They have always been there. When our kids were little there were always a few. Once 2 went to 3rd grade with Heather. They escaped their plastic ice cream container and were gone. Four months later the class erupted in laughter and Mrs. Stannard looked up to see them "racing" across the classroom floor. They were brought home that night and returned to the window well. Sometimes the little kids put toads and frogs into the window well also. The toads and frogs stay awhile, but these guys are always there. When we are in a dry spell they burrow down deep which is what they do in the winter too. But right now, with all the rain and warm temperatures and humidity. They are up on top of the ground, crawling around and even looking in the basement window. The picture above is the bunch of them, 14, after being lifted out by the 2 year old grandson. ...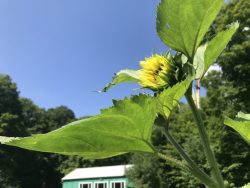 This is Gretchen. The middle child. She participated in her first Iron Man (Woman) last weekend in Lake Placid, NY. Lake Placid is beautiful! The event, a whole other story. Beautiful, painful, crying, laughing. Wow. Starting at 6:15am with a 2.4 mile swim around Mirror Lake. Maisie and I slept in. Maisie got up to see what the noise was coming from the lake, came running back into our bedroom to tell me I needed to go watch the swim, because watching a large group of swimmers swim was loud. 2300 people into the water between 6 and 9:30am. That was quite a show. Elbows looking like shark fins. ...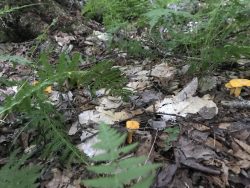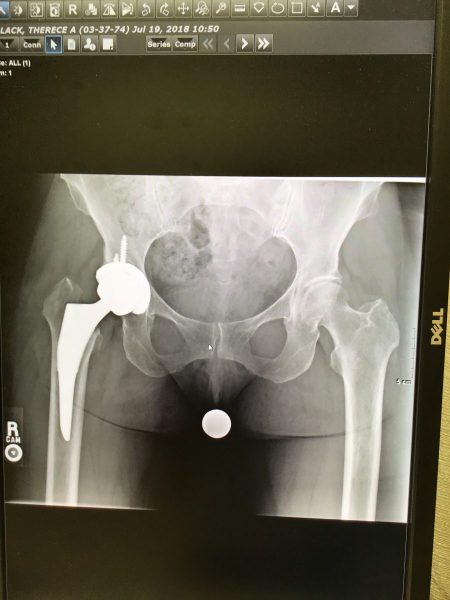 And this is what a new hip looks like!
An x-ray of my new hardware. The new hip is great and I know at a point in the near future it won't hurt. But this is a process and I am 1 month in. Another month or 2 and I should be good to go. The next picture you see of my hips will be skiing. I can walk a mile on my crutches, not really much fun. I can go almost a half mile per walk with ski poles, walking, walking, walking. I am rocking physical therapy with my main man Dan. And this weekend I will be watching Gretchen participate in her first Iron Man. A pretty darn good summer. ...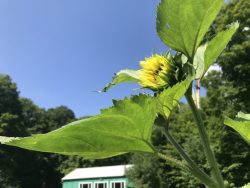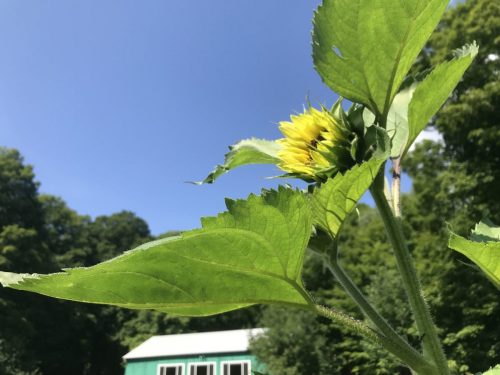 Below is the schedule for the next few weeks. Please note changes 9-10:15am. And, no class Saturday the 21st, or Monday morning the 23rd at 9am. YES class Monday, the 23rd, at 5:30pm. Gretchen is participating in an Iron Man competition in Lake Placid. Ian and I are going to cheer for; no injuries, and a finish she is happy with. ...